Text written in Basque and translated automatically by
Elia
without any subsequent editing.
SEE ORIGINAL
50 more years to socialize science and research!
2022/09/01 Etxebeste Aduriz, Egoitz - Elhuyar Zientzia Iturria: Elhuyar aldizkaria
Elhuyar and the EU have been integrating science and research in society, in the Basque Country and from the scientific production in the Basque Country for 50 years. Together they have come the way and want to move forward together in the coming years. For this purpose, their possibilities and difficulties were analysed in a discussion held on 22 June at the Teja Factory.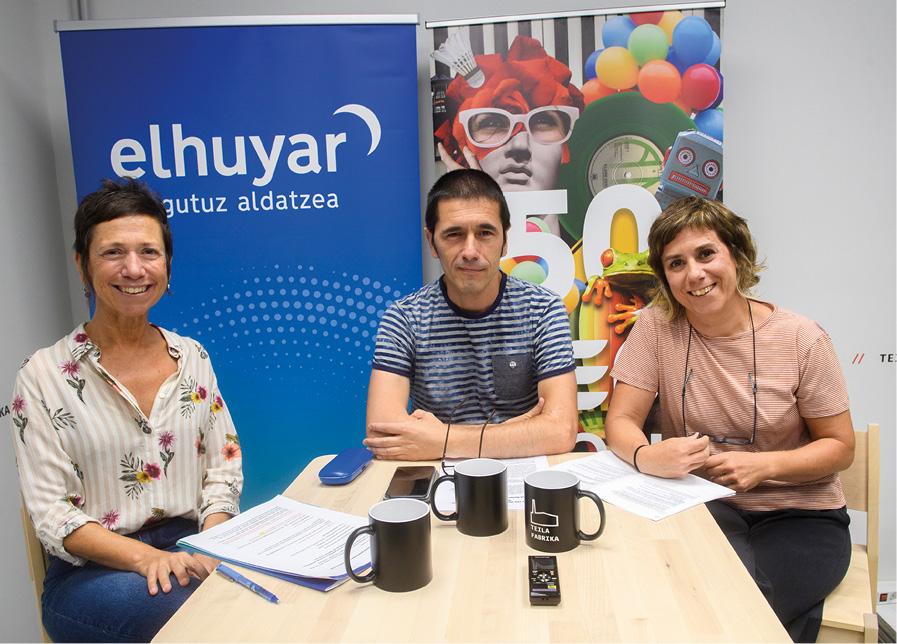 Ana Galarraga Aiesta, Igol Leturia Azkarate and Ainhoa Latatu Nuñez, respectively.
Ed. Gorka Rubio/
It has just premiered summer and is raining out, but we are calm, under the shelter of the Teja Factory, a dozen people. As Arantxa Urretabizkaia of Bejarano literature says, the socialization of science is "something that most don't matter at all." We are not many, but we are looking forward to hearing and participating. We have before us, sitting around a high table, the two interlocutors and the moderator.
With the precision required by science, at 18:00 on the spot, Igor Leturia Azkarate welcomes and presents the session. The EU and Elhuyar institutions have first presented their references in the socialisation of science and research. He knows them closely, as he is a member of both, a partner of one and a worker of another. It presents the partners on each side: "Ana Galarraga Aiestaran, BA in Veterinary and Food Science and Technology, has been communicating Elhuyar's science for more than 20 years. And Ainhoa Latatu Nuñez, PhD in Biology, former EU Natural Sciences Counselor, who for the past 20 years has been working on the EU team."
The question has come after a brief statement of the activity of each of its agencies: "Why and why socialize science?" Galarraga makes it clear: "Why? Because it's a right. One of the human rights is access to knowledge of science. We contribute to that. And for what? A society with judgment, criticism, blame, responsible and capable of assuming and demanding responsibilities." Latado has the same vision. "When you pass on knowledge you are providing tools and keys to interpret reality. If we believe in this social transformation, we have to equip ourselves with these instruments. And if that society is Basque, we have to do it in Basque, because that is the language of that society".
However, the Basque presence in the world of research is scarce. However, at a time when almost everything is communicated in English at the academic level, the EU has been organizing the IkerGazte Congress, in Basque, against current. "If we want to influence the normalization of the Basque language, we also need to normalize the Basque language," Latatu claims. "In addition to its importance in the relational context, we must conduct research in Basque and create references in Basque. So, counter-current yes, but at the same time responding to a need. This is how we are Elhuyar and the EU, from birth, adapting to the needs that arise in society." Galarraga's gestures and words express his complete agreement: "This is what Elhuyar's motto says: 'change knowledge'. Besides being ideal, it is a beacon for us."
Amendment and adaptation
Change and adaptation is vital to stay 50 years in scientific communication. Leturia asks if the formats have evolved a lot and adapted well. Start Galarraga: "In 50 years, not only to remain, but to be present in all the existing communication formats is a sign of something, many others have had to leave it on the way and we are living and constantly transforming ourselves. I think we're right."
And the counterpoint. "There's a kind of obsession with being also in the latest formats. But we also have to have patience and perspective, see which of these formats advances and whether they serve our content and our objectives."
"We have evolved a lot in communication," Latado continues. "But, as Ana says, knowing very well what our goal is and what is the most appropriate means for it."
Fifty years ago, the media was not within anyone's reach. Internet development has greatly facilitated and democratized communication. Much more information is available now and also for free. Although one might think otherwise, Galarraga believes that this puts his work in value: "We need help in distinguishing the grain from the straw and we provide reliable, independent, proven, prudent, deep and moderate information, fleeing from alarmism and triumphalism. That is very much appreciated by the recipient. In addition, ours is free. Thus, as it is a contribution to society as a whole, public institutions should guarantee the resources needed to maintain our activity."
"Totally agree," Latado continues. "Democratisation and the release of knowledge is very much in line with the EU. Reliable information enables the recipient. In the pandemic, reliable information is important to understand how things are being interpreted. We have to be there."
Responsibility of all
This reliability and credibility is important because this democratization of communication has been accompanied by the proliferation of false news and lies, the expansion of pseudo-sciences and pseudo-cyapias and negationism. "Our mission is to deal with them," says Galarraga. "We have that responsibility, but it is not our responsibility. Other media should also be responsible for the dissemination of reliable and verified information. And also the whole of society, the individuals. And there's a lot to do from education so that we all have a critical spirit."
And, starting with responsibility, Leturia has put the issue of equal treatment on the table. "We have to break stereotypes so that girls have new references, but also to normalize the presence of women," Latatu explains. "One of the most obvious ways to do this is to pay special attention to the presence of women in interviews, etc. But also with the presence of women in the committees and in the bodies with which we work. We have a lot to do and we have to do it, it's our responsibility."
"Yes, we have to do that work," says Galarraga. "And in addition to providing references, we must help to denounce the situation and call for action from those responsible. Because this problem is structural, it is not exclusive to this area. And, as we said at the beginning, why do we want people with criteria? For to call for responsibilities, and in this case it is also up to us."
But, "is the essence of your work to spread scientific knowledge and inform society, or is it legitimate to influence opinions and politics?", Leturia asks. And, Latatu: "Yes, we've come to transform. Let's act on policies." Yes, also Galarraga: "Before it seemed that we were asked for a kind of neutrality, but society is not. Society is complex, and we want to interpret it, provide instruments to interpret it and transform it. So we should work with all the elements and agents."
They are clear about what values they want to drive forward. "Language is clear – Latatu has started – we want to convey it from our language, from our country, without losing the global level, but taking care of our language. We want to bet on offering equal opportunities to all people, and honesty is also important." Galarraga adds other values: "transparency, independence, empathy, prudence and humility".
Together
Leturia has brought the motto ElkarEkin used by the EU in recent years and asked about the role of collaboration. "For this event, for example," Latado replies, extending his arms to the public. "Be here, Elhuyar, UEU, Teila Fabrika in this coworking space. We are becoming increasingly identified with this motto, because we give a different dimension to that Community character that we give so much to us. And because the position is that we're not just community, we're going to start together."
"And on the other hand, I think we have to be very grateful. We have not done this alone. We have done so with the help of many and many, together, and we want to keep doing it together." Galarraga continues to delete the motto: "It was very nice for Elkarri to award both organizations. We also feel very strongly identified with the motto, we also serve." "Sure, it's for everyone," Latado offers. "Yes, everyone fits. And yes, that protection is essential. It doesn't usually last 50 years without the support of many people."
Like bertsolaris, beautiful, meaningful phrases to end the colloquium. But it's not over there. It's the listeners' turn. You start with excitement. "I have read the following number of lines: 'A Rammstein concert causes an abnormality in the functioning of an accelerator' [we all laugh]. Do we have anyone able to talk or write about it tomorrow in your community?" Galarraga has no doubt: "Yes, we do. And even if we weren't, we would know who to turn to. We've been working on the network for a long time. 50 years! It's a trusted network. In all of our projects we turn to experts who realize that we measure them and that what they say we will interpret it well and put it that way."
And another listener highlights the value of giving visibility to these experts: "It is very important that the proximity researcher be the reference, not just gods like Einstein and Newton."
Another complains that in the pandemic emphasis was placed on the importance of scientific communication, but that it has already been dismissed again, who is the responsibility of the media and public administrations. "There must be a clear political decision. And we, too, have to ask the media to fulfil its information function. We don't ask enough," Galarraga says. "I am proud of how we have addressed the situation," says Latatu, "now we have to stay there, we have to keep it."
And listeners have continued to engage, in a near-overhead environment, asking if scientists should communicate more, denouncing why communication studies don't learn a scientific basis and proclaiming that scientific culture is also culture.
Time has advanced without realizing it. And now yes, in conclusion, Leturia has thanked and asked for applause from the speakers and congratulated both institutions for 50 years and for the work they have done over those years. Keep meeting UEU and Elhuyar for another 50 years, with ElkarEkin.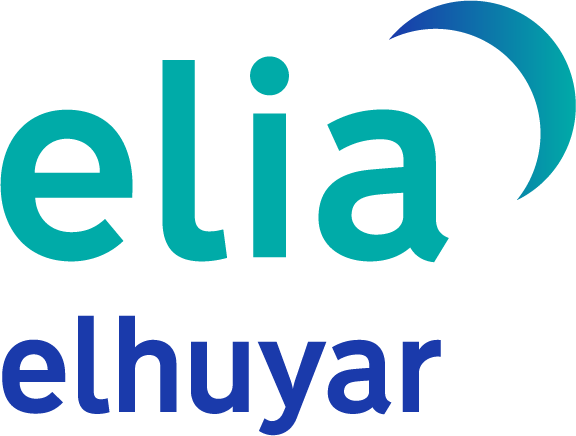 eu es fr en ca gl