Text written in Basque and translated automatically by
Elia
without any subsequent editing.
SEE ORIGINAL
The immediate future of the Videotex system
1988/12/01 Sagarna, Andoni - Ingeniaria Iturria: Elhuyar aldizkaria
It is a computer system that allows to consult the information located in several databases from terminals connected by telephone.
What is the Videotex System
It is a computer system that allows to consult the information located in several databases from terminals connected by telephone.
The database information is sent to the telephone network by a computer called a server. The user can consult the information and work in conversation mode with the server.
In this interview, transactions can also be carried out, such as giving purchase orders. It is also possible to perform other operations such as messaging, email or software telecarga.
The user receives information at a speed of 1,200 baudis and sends it to 75 baudis. The information offered by the server is like a set of pages in the form of a tree. The user consults the information by running the branches of the tree or requesting specific pages.
Different standards in Europe
The Videotex system was born in Britain with Prestel standard in 1982 and had an immediate success, but its greatest advance has occurred in France in recent years. According to the latest data, there are already more than 3,300.000 users of this country.
These systems are not compatible with each other. Efforts made to reach a single standard have not led to incomplete results. There are significant differences between systems depending on the degree of normalization currently achieved.
On the one hand we have CEPT-1 standard created by the Germans. Its characteristics are:
The terminal screen is divided into 40 or 80 columns and 24 rows.
Alphanumeric characters and drawings can be played using colors.
This standard is based on public networks of the Federal Republic of Germany, Austria, Norway, Switzerland and Spain.
The standard used in France is called CEPT-2 and contains a more serious mosaic (40x24) and less colours than CEPT-1. When mentioning this system, the names of Antiope, Teletel and Minitel are also used.
Prestel systems are located in Britain, Belgium, Denmark, Holland, Sweden and Italy.
Although in Spain the public network has chosen CEPT-1 standard, there are private organizations (Caja Laboral Popular) that are using normal CEPT-2.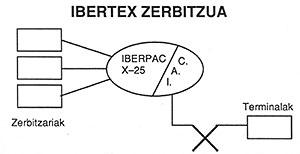 Figure .
Situation of the Problem in the Spanish State
In the Spanish state it seems that so far the darkness has been dominated. Telefonica had promised to have the public network ready for 1982, but did not fulfill its promise, let alone.
Finally it has defined its criteria in July 1987 and for the moment the public network only has a provisional functioning.
Telefónica Española has launched the public service Videotex called Ibertex. This service uses CEPT-1 standard. This means that servers and users who want to enjoy the services offered by Ibertex must comply with this standard. To ensure compatibility between teams, terminals and servers will be required to pass the technical qualification tests passed by Telefónica.
Telephony also sells terminals, but the user can choose others if they are approved by Telefónica.
1. The image shows the connection of servers and users through the Ibertex service.
The servers connect with IBERPAC and work with speeds of 2400, 4800 and 9600 baud. IBERPAC is the Telefonica package transmission network, equivalent to TRANSPAC in France. The connection between servers and IBERPAC is carried out through the X-25 network. This means that the user pays the service only depending on the time of use and not depending on the time and distance.
The user will pay Telefónica the cost of the service and the service will pay it to the server when it is an information service.
Switched telephone network user and C.A.I. (Ibertex Access Centers) will access the system.
So far there were many obscurities about the characteristics of the videotex system in Spain. It seemed that Telefónica was going to mount its system and no one would have the right to install it. However, the slowness of telephony has caused some to start providing services (Banco de Santander, Caja Laboral, etc. ). ), having opted for the normal. Caja Laboral, for example, chose CEPT-2 standard.
At this moment things seem clearer: Telefónica offers the Ibertex system and anyone who wants to enjoy its advantages (use of the X-25 network, unification of user invoices, h.d. the advantage of using the so-called kiosko system), both by the server and by the terminal, must use equipments approved by Telefónica, whether or not acquired by Telefónica.
In the conferences organized by Spritel, several speakers made the following approach:
"The deployment of the Videotex system in Spain cannot cause discomfort to users due to normality. Compatibility problems must be resolved at the server level. On the other hand, there are the differences between the normal ones of the different European countries. Therefore, the need to solve problems of conciliation will also be raised in another way (and also of multilingualism). Your solution should be found in normal conversion systems."
In fact, most of the homes that have presented server equipment in these talks highlighted the possibility of working with different standards.
Many households offer specialized videotex terminals, some of which are multistandards, but it is evident that among the potential users of videotex there is a wide and interesting set (more than 200,000 in Spain) formed by owners of personal microcomputers. These do not have to buy another terminal to use videotex. Just place a modem suitable for the microcomputer and use the appropriate communication software. There is already an offer of this type of products in the Spanish market. For example, Kortex and Vidicom's Rafi modem that sells CEINSA in Bilbao.
Other users have ASCII terminals. They can also benefit from videotex. Of course, in their terminals they will not be able to receive colors or graphics, but in professional information in many cases it is not so important.
SPRITEL added value network
The SPRI Society has organized the SPRITEL program to promote the use of telematics in the Autonomous Community and promote the development of the telematic industry. With these objectives it is intended to implement different types of actions: temporary cession of terminals to users, installation of a Office, organization of exhibitions and seminars, subsidies to those who want to assemble comfortable servers and credits, as well as the creation of an added value network that is of great interest.
This SPRITEL network allows users to connect the IBERPAC X-25 entry through a series of access points (phone numbers) that will be in Vitoria-Gasteiz, Bilbao and Donostia-San Sebastián, in addition to a converter of normal that SPRITEL will make available to users, local or foreign systems that work according to other rules.
Difficult commissioning
Given the success of videotex in France, Spain and Hego Euskal Herria are, without a doubt, very far away. The biggest culprits of this situation are the Spanish Administration and Telefónica, which have done little to clarify the panorama. However, this year 1992, which will be admirable and companies that were losing opportunities, it seems that things are somewhat clearer.
Another problem is how the market begins. On many occasions it has been mentioned the existence of a vicious circle in which, since there are no users, there is no service and of course there can be no users without service.
As one speaker said in a conference, this problem is not new, another so much happened with television and in that case we know how the wheel of vertigo broke: TVE starts broadcasting its television programs.
This may be true, but someone will ask if private initiative projects will be created knowing that the first years will not give money. Some may be prepared because they consider this type of services as a way to work the image, to improve relationships with closed user groups, etc.
In addition, grants from public institutions can be of great importance.
Surely saying that videotex will grow much among us in the coming years will not be too risky if we limit growth to relative terms.
Banco EUSKALTERM Euskal Teminoloji
The Terminology Bank EUSKALTERM is a terminological consultation service that is presented integrated within the computer structure of Caja Laboral.
The following areas can be consulted:
Economy Economy Economy
Finance Finance Finance
Administration of Administration
Company Company Company
Statistics Statistics Statistics
Traffic in traffic
Mathematics Mathematics
Physics Physics Physics
Chemistry Chemistry Chemistry
Biology Biology Biology
Medicine Medicine Medicine
Technology technology technology technology
Philosophy of Philosophy
Psychology Psychology Psychology
Linguistics Linguistics
Right of law
Art Art
Sports Sports Sports
More than 100,000 concepts in total in the following languages: Basque, Spanish, French and English.
This terminology bank prepared by UZEI is valid for anyone who will use the Basque language in the current topics.
The connection can be made in two ways:
Through the minitel, that is, the small terminal connected to the phone.
Through the microcomputer, that is, through a modem.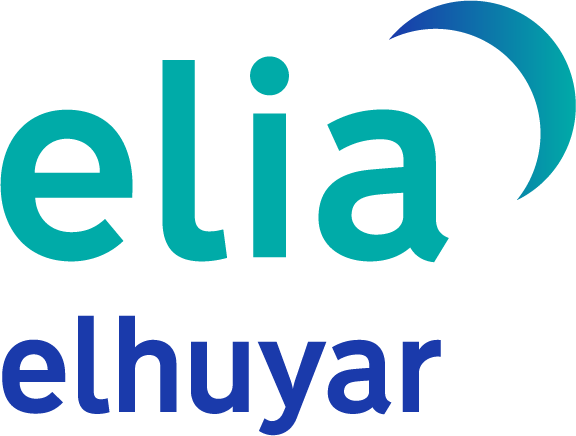 eu es fr en ca gl
Gai honi buruzko eduki gehiago
Elhuyarrek garatutako teknologia